Implants dentaires
Dental implants

 Long experience and successful reports :
For over 40 years, dental implants have offered a way of replacing  teeth
completely and long-term. Dental implants:
Replace one or more lost teeth
Hold prostheses securely in the mouth
Are scientifically researched and tested (convincing success rates of over 96%).
Have been used successfully in dentistry for decades.
For you to, dental implants may represent a means of restoring a better  quality of life, confidence in you and well-being natural.  Our clinic opts for one of the implant system more reliable and hitec.   Straumann, is a Swiss company that specializes in the production of  tools and components for dental implantology. It is a world leader in its  field.
What is a dental implants?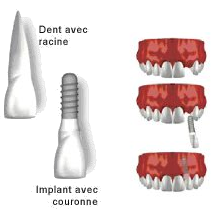 A tooth root made of titanium*
A dental implant is a small screw made of metal. It consists of titanium,  which is well tolerated as the body accepts it as its own. Intolerance  occurs rarely.
A short and painless operation for a long-term solution
In order to take over the function of the tooth root, the dental implant is  inserted in the jaw bone by a short operation under local anesthetic as  an outpatient procedure. It knits painlessly with the bone, thus forming a  solid basis for the long-term and stable fixation of the denture.
Esthetic from the start
Depending on the situation it is possible to load the implant  immediately after insertion and attach the final denture. However, since  the long-term success should be the main priority in every implant  treatment, this decision can only be made after the dentist has carefully  considered the medical situation. If the denture cannot be attached  immediately, an esthetic temporary denture is placed until the time is  right for the final restoration.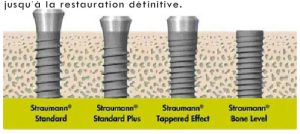 Les indications de l'implant
1- Absence de dents unitaires
L'implant assume la fonction de la racine dentaire et transmet la force masticatoire de la couronne dentaire à l'os de la mâchoire.
Sollicité de manière naturelle, l'os reste vivant et se reconstruit. La nouvelle dent ne doit toutefois pas uniquement remplir une fonction naturelle. Au contraire, en particulier dans la zone antérieure, elle doit aussi se fondre à la perfection avec les dents voisines d'un point de vue esthétique. Un résultat thérapeutique plaisant d'un point de vue esthétique est dans ces cas de la plus grande importance.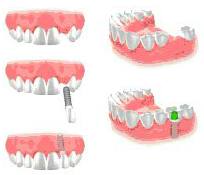 Les dents fixes implanto-portées ressemblent à s'y méprendre à des dents naturelles mais procurent aussi les mêmes sensation. L'implant , la couronne dentaire et la gencive forment une unité harmonieuse. L'implant dentaire remplace la racine perdue et sert de pilier  la  couronne prothétique. Comme il est inutile de meuler les dents voisines, le capital dentaire sain est préservé.
L'un des grands avantages des bridges implanto-portés réside dans le fait  que les dents voisines ne doivent pas être meublées. D'un point de vue esthétique également , ces bridges représentent la  meilleur alternative aux dents naturelles , étant donnée qu'ils s'adaptent  dans la plupart des cas de manière optimale à la gencive.

Remplacent de plusieurs dents dans la zone antérieure
par un bridge imanto-porté.

Remplacement de plusieurs dents dans la zone latérale par un bridge implanto-porté
2- Absence de plusieurs dents
Afin d'éviter la résorption osseuse, ainsi que des positions inadaptées des dents et de la mâchoire, un espace édenté de plusieurs dents doit être refermé aussi rapidement que possible, pour des raisons non seulement fonctionnelles mais aussi médicales. Le nombre dimplants employé dépend de la situation individuelle.
3- Mâchoire complètement édentée
L'implantologie propose pour la restauration des mâchoires complètement édentées des solutions de prothèses amovibles ou des arcades de dents fixes vissées. Les avantages de ces deux solutions par rapport aux prothèses adhésives classiques parlent deux-mêmes:
Les prothèses implanto-portées offrent dans toutes les situations une meilleure tenue.
Les forces masticatoires sont transmises par la prothèse à l'os. Cela prévient la résorption osseuse et garantit ainsi une assise optimale de la prothèse à long terme.
Les prothèses ancrées sur implants suppriment les points de contact douloureux.
Les gencives ne sont pas couvertes par du matériau prothétique. Les sensations gustatives et le plaisir de manger ne sont ainsi pas altérés. La solution esthétiquement la plus aboutie pour les mâchoires édentées reste la pose de rangées de dents fixes vissées. Celles-ci sont directement vissées sur les implants et s'intègrent généralement harmonieusement à la gencive.
Il existe en outre d'autres variantes de fixation pour les prothèses amovibles, comme des systèmes aimantés. Demandez à votre chirurgien- dentiste de vous présenter la gamme complète de solutions prothétiques.
Diagnosis and planning
Assessment of the individual situation:
Assessment of the general state of health
Examination of the entire oral cavity and assessment of oral health
Information about the advantages and disadvantages of the various  treatment possibilities, taking individual wishes into account depending  on what is feasible and the initial medical situation.
Taking X-rays for exact planning of the operation. This is done to  assess the available bone volume and determine the exact position of  the implant. Computed tomography may also be used to determine the  bone volume and bone quality.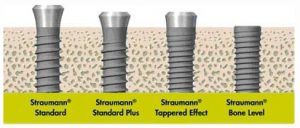 Inserting the implant
Inserting the implant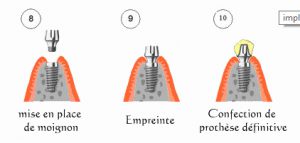 The actual implantation takes only a short time. With correct  preparation and implementation, the risks are minimal. Compared to  extraction of a wisdom tooth, implantation is associated with fewer risks  and possible complications.
Inserting a single implant usually lasts no more than 30 minutes but can  also take longer depending on the difficulty.
Dental implants are usually inserted under local anesthetic as an  outpatient procedure, or under general anesthetic if preferred.
HEALING

To provide a stable basis for the new tooth in the  long term, the implant must knit firmly with the  bone. The healing period lasts 6-8 weeks on  average, depending on the medical situation  and bone quality and usually produces no pain  or other complaints.
Regular and conscientious oral hygiene is crucial for successful healing.  If the dentist's instructions are followed, the healing period nearly  always passes without problems.
In the healing period, an esthetic temporary denture fills the gap until  the final denture is fitted. In a few cases and after careful  investigation, it is also possible to fix the final restoration when the  implant is inserted.
Final denture
After healing is complete, the crown made individually for the patient in  the dental laboratory is fixed to the implant. The crown can be either  cemented or screwed to the implant. Implant-borne removable dentures are secured to retainers, which the  patient can remove from the mouth for cleaning.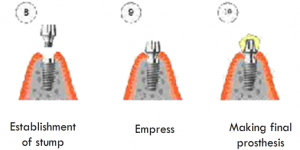 Care and check-ups
Good oral hygiene is very important for preserving the new teeth and  implants. Regular, thorough but gentle removal of plaque and tartar  make a major contribution to the long-term success. Apart from dental care at home, appropriate implant prophylaxis by a  dentist is important. Regular check-ups with professional implant and  tooth cleaning are recommended.

Our site has no external funding and does not accept or receive any advertising funds.
This website complies with the HONcode standard for trustworthy health information. Check here.
© COPYRIGHT 2005-2017